Taormina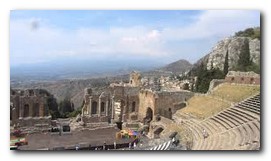 in a sublime and enviable position overlooking the Ionian Sea and Isola Bella with behind the unmistakable profile of Etna, the Greek, Byzantine, Roman and Norman city Taormina, before becoming an important place of tourism and resort it was a city very important to the economy of eastern Sicily.
At the end of the twentieth century thanks to the construction of new road which linked the interior and the coast, the town had a further development linked to tourism mass.
Visiting the city as if there is to cross Corso Umberto I ° (already what was the consular road valeria) that runs through the town from Messina to Catania port door. Along this thoroughfare full of ancient palaces, churches and monasteries, at one point, taking a little side after a few meters, it unfolds the magnificence of the ancient greek theater, symbol of the city and the historical – cultaral landmark of Taormina; it is still tied to events and performances of great national importance.
Valle dei Templi di Agrigento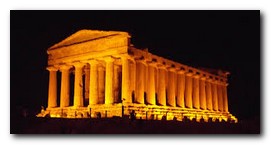 since 1997 it is registered on the list of UNESCO World Heritage.
This is the largest archaeological site in the world and it is extended more than 1300 hectares. Morever it is the most famous of Sicily dates back to the Hellenistic period. It corresponds to the monumental ancient city of Akragas, characterized by the exceptional state of preservation, and a series of important Doric temples; to be precise, ten temples dedicated to the gods of Ancient Greece.
The park, which also includes three sanctuaries, some necropolis and fortifications, is considered a major tourist destination, perhaps the largest source of tourism for the entire city of Girgenti and a major of the island.
Agrigento is a magnificent city of about 60,000 inhabitants situated on two adjacent hills, (the hill of Girgenti and Rupe Atenea) recently located four kilometers from the southern coast of the island. It is a city with thousands origins, that changed four names in its history: Akragas for the Greeks, Agrigentum for the Romans, Kerkent and for the Arabs, and Girgenti for the Normans.
Agrigento embodies its history, and it will make its streets, its alleys where, Greek and Roman remains are scattered in every corner of this beautiful city. In addition, the province is home of two great Italian writers of the twentieth century, Luigi Pirandello and Leonardo Sciascia.