Catania e Sant'Agata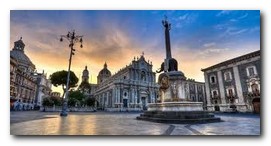 second largest city in Sicily after Palermo, Catania is known around the world for its location at the slopes of Etna mountain and the beautiful baroque buildings of its old town style. City with an ancient history, was founded by the Greeks in 729 BC and it suffered the domination of many foreign peoples. In addition, according to legend, seven times was completely destroyed and rebuilt after the terrible eruptions of Etna and the destructive force of earthquakes. The territory of the city is extraordinarily varied from a landscape point of view: it is crossed by the river Simeto and it includes the highest peak of the volcano, which is over 3,000 meters in hight and the fertile plain of Catania, where they grow mainly citrus. The symbol of the city dates back to Roman times probably: "u liotru" the elephant in lava stone Elephant Fountain of the eighteenth century, situated in the center of Piazza del Duomo.
The Sant'Agata Cathedral or the Cathedral of Sant'Agata, located on the east side of the square, was built in 251 on the ruins of the Roman baths of Achilles and the same place of the martyrdom of St. Agatha, Virgin and Martyr, patron saint of Catania. The first building dates back to 1091. Already in 1169 an earthquake destroyed the Cathedral completely, leaving intact only the apse, while in 1194 a fire created considerable damage; in 1693 the earthquake that struck the Val di Noto almost destroyed completely. The present building is the work of Gian Battista Vaccarini who designed the facade in the Sicilian Baroque style.
L'Etna and the Great Mountain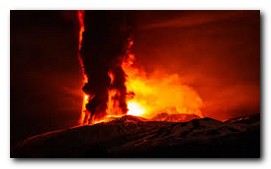 L'Etna and the Great Mountain: situated in the beautiful Eastern Sicily, not far from the Strait of Messina, Etna is the largest active volcano in Europe. It is one of the highest in the world, and is joined on the list of UNESCO protected heritage in June of 2013. Catastrophic events linked the activity of the volcano have transformed the nature of the landscape (the flora and fauna typical of Mediterranean Sicily) in an evocative atmosphere almost lunar.
An environment protected by a vast natural park, the natural park of Etna, established in 1987. The park and the same volcano can be visited thanks to numerous nature trails, open to all. In addition, the volcano has several vents scattered at various altitudes, produced by the various eruptions over time, easy access by visitors and researchers and in which are made excursions. In addition to scholars so that know it now and study it for years, Mount Etna is an interesting destination for tourists who have a reason to visit Sicily and the beautiful Province of Catania where the volcano is located.