Segesta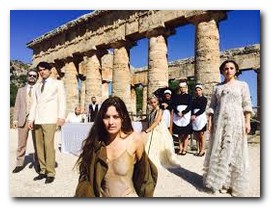 Is an ancient city of Elima origin. Its millenary history is demonstrated by the impressive doric temple  mainteined perfectly and by the magnificent ancient theater carved into the rock on the top of the barbarian mountain. Thanks to A29 motorway, the archeological site is easy to reach and opened all the year.
 Erice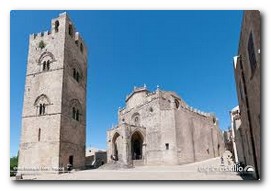 Erice, along with Segesta, is another city founded by Elimis: from the summit of Mount San Giuliano, the city dominates the stretch of sea with Egadi Islands and much of the hinterland of the Trapani province.
Thanks to the cable car that starts at the mountain slope, Erice is easily reached in no time. Furthermore, due to its strategic location, Erice has always been an impregnable fortress and the medieval style characterizes the old historic centre till today. There are some famous monuments, like the Castle of Venus, the Balio with its gardens, the Pepoli Tower, rich in churches, convents and ancient buildings. There are also some famous culinary specialties like the Genovese and the almond paste.
Saline di Nubia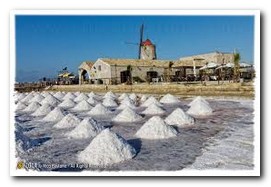 Since the time of the Arabs the salt in Sicily, and in particular in the province of Trapani, has been a very important right, so much so that until the end of nineteenth century was called the white gold and some of the historical families of Trapani lived and prospered with it. Now that the salt is no longer used as it once was, the salt, even if diminished in extension, does not have nevertheless lost importancen fact, a good part of them are under protection of UNESCO and through their unique natural habitats have become a stopping point for the great migration of birds, (the pink flamingo, for example). The landscape that is created is extremely beautiful: it's like being in paradise on earth where harmony of nature and tranquility of the place makes everything magical and spiritual.